Maria
Maria Rerise 130mm 70G
or make 4 interest-free payments of $8.50 AUD fortnightly with
More info
Maria have released "RERISE" a brand new deep range capture lure. 
New fishing method of Rock Shore Blue Game "Invitation"
A new method proposed by Maria, which slow action that can not be produced in the jig leads to predation against natural "poorly active low target" clinging to the Deep Range (15 to 30 meters deep) attacking by Shore Jigging, "Invitation".
General Lure Rotation of Rock Shore Games aiming at Blue Objects
High active time of morning morning

Appeal the surface layer with top water (Pencil · Popper) vigorously, and invite fish from a wide range!

After morning sparrow

Efficiently search deep range with a speedy approach for highly active fish that sun rises and falls to deep.

During the day when the reaction becomes awkward

Propose a new method "invitation" for low active fish in the depths!
Action image
① Fall while rocking to the bottom (Settling speed estimate: 1 second / m)

② Tight S-shaped slide action with long jerk

③ Flat beating action as if you feel like a short jerk

④ Invite you to any range, repeat fall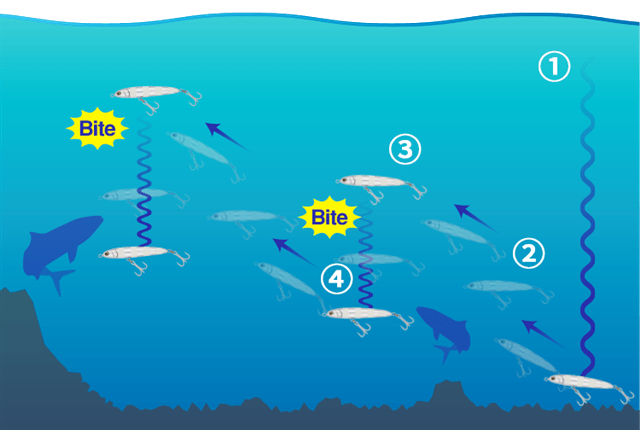 specification
| | |
| --- | --- |
| spec | 130 mm - 70 g (Estimated sinking speed: 1 sec / m) |
| Needle (standard equipment) | Owners ST-66 # 1/0 |
| ring | Fighters Ring Dian # 6 |
B01H Sardine

The standard bait colour for salt game.

 




B04C raw silas

Reflective and different transparent appeal that can not be expressed in the jig demonstrate its effect in unexpected situations! Also supports shirasu pattern and squid pattern that unbalanced to clear color.

B08H Pink sardines

Join with the appealing element by the conspicuous fluorescent pink even in the dark deep range, invite the bite by the flushing effect of the side hologram!

B21H lime chart glow

Adopted the night light (glow) colour which has a high track record in blue game, in the belly section. Invite the fish from the bottom and they'll aim for the lure from the target area!

B23H Keimura Abalone

Based on black abalone to get contrast, abalone-like colour resistant to eating cravings. Keimura firing appeal for the whole body!

B24D Keimura slit glow

In addition to the new sense appeal by Keimura + flushing by design holo technology, a strong appealing colour adopted glow at the belly part!

B33H bull pin

Adopted standard bull pin colour of metal jig. When falling, the back (blue) and the belly part (pink) alternately appeal, attract high activity targets!

B34H zebra glow

A classic of slow jigging games! Zebra adopts night light colour. Appeal to the target lurking in the dark deep range due to the blinking effect!