DRY BACKPACK 25 is the new backpack 100% waterproof HPA. Used both for leisure activities (kayaking, SUP, canyoning, scuba diving, spearfishing, ...) and for professional uses (rescue, offshore, PPE, etc.), it was specifically designed and reinforced to resist the worst conditions.
| | |
| --- | --- |
| Width | 26cm |
| Height | 45cm |
| Thickness | 17 cm |
| Weight | 900 gr |
| Volume | 25L |
| Watertight Level | IPX6 |
DRY BACKPACK 25 (Heavy Duty) is the new backpack 100% waterproof HPA.
This is a 100% waterproof backpack versatile, intended for all recreational or professional water sports.
Uses: boat, kayak, jet-ski, beach, water rescue, motorcycle, hike in wet environment ...
Its assembly by welding and its closing by winding makes it perfectly waterproof to the strong projections of water, and allow him to support immersions of short durations and with shallow depth (knowing that it will float systematically if one take care to leave some air inside).
Usages : bateau, kayak, jet-ski, plage, secours aquatique, moto, randonnée en milieu humide ...
Its volume of 25 liters makes it perfect for day trips.
The DRY BACK 25 features a foamed back, adjustable ergonomic shoulder straps and a wide removable waistband making it particularly comfortable. Elastic on the front for a garment or beach towel.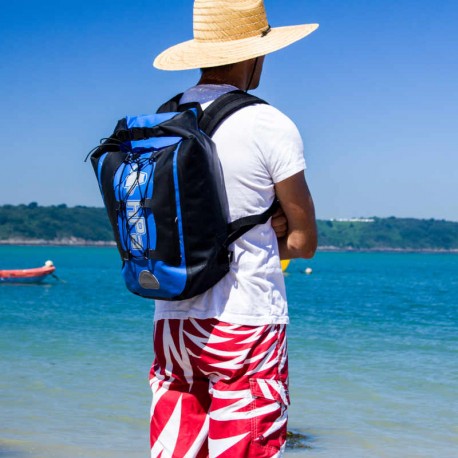 ---
---
As an option, the modular PADPACK compartments turn the DRY BACKPACK 25 into a real camera bag:
PADPACK SMALL for a reflex camera + a replacement lens, while keeping room for clothes or a picnic. 
PADPACK PRO for a more complete photo equipment occupying the entire volume of the bag.
Made of double-sided coated canvas (PVC tarpaulin / 1000D / PVC nylon fabric), it is guaranteed for 10 years.
Dimensions : Width: 26 cm, Depth: 17 cm, Height: 45 cm.