Maria "BOAR" jerking minnow under tough condition, "BOAR" was developed for landbased Kingfish game.
Action: 
【Jerking action】 A pelagic fish attacks to BOAR after the irregular dart action by short jerking.
【Strong wave motion】 BOAR generates strong wobbling & rolling in retrieving medium speed.
【Long cast distance】 Magnet weight moving system (cast distance : Ave. 81m)
Rod

10ft class shore plugging rod (MAX cast: 100g)

Reel

Shimano 6,000-14,000 class spinning reel

Line

PE3-6, nylon leader 60lb-140lb

Recommended Hook

Treble #2/0 class (owner ST66 #2/0)




Single 3-5g/piece (Shout Single Kudako #4/0) 

Recommended Ring

Maria Fighters Ring Daen #7
*Approximately 70g total lure weight including recommended hook and ring

*Slow floating depending on the hook setting (fine shaft and single hook).
Colours: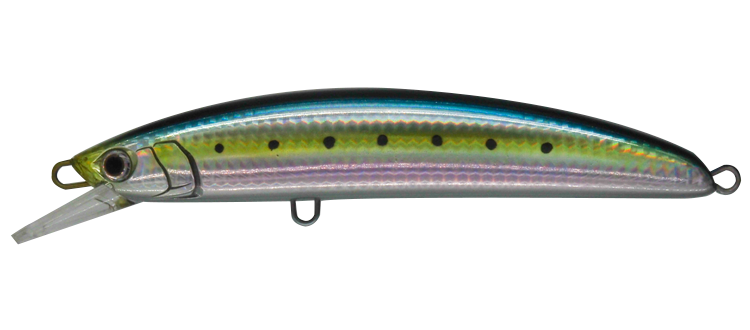 B01H Sardines
Sardine, which is a representative bait of blue fish.
A standard salt color that can be used in a wide range of areas because it lives in all waters off the coast of Japan.
B02D Bloody sardines

The design holo transmits red light and expresses a sardine bleeding with blood that was weakened by being chased by a blue one. Since red is noticeable in water, it has a high visual appeal.

B04C Raw Shirasu

A transmission appeal that is different from the reflection that cannot be expressed with a jig is effective in unexpected situations!
It also supports shirasu patterns and squid patterns, which are eclipsed by clear colors.

B06H Sanma

Due to the dull and dull reflection peculiar to aluminum, the silhouette is naturally appealing even in the dark blue color!

B08H Pink sardine

Highly visible fluorescent pink color is effective for morning and evening mats that are dim and have blurred vision. Invites a part-time job by adding the flushing effect during jerk.

B13H Bullpin sardines

The blue item is a classic blu-pin color.
Quickly bring highly active fish to the bite with a contrast of blue and pink. The red-colored abdomen is a highly appealing element for blue fish that look up at small fish and eat them.

B24D Keimura Slit Glow

In addition to the new sense appeal by Keimura + flushing by design holo technology, a strong appeal color that uses glow in the berry part!

B47P Chart Pearl

The top water plug is difficult to see on the surface of the water, making fishing difficult.
A semi-night color that can be surely appealed to a blue one simply by throwing it and winding it in a throw.