YAMAGA Blanks rebuild Galahad series as a new generation of jigging rod in 2019.
New Galahad have been designed to adjust modernistic jigging scene with techniques and skills which have been accumulated for a long time period.
There are so many choices of Metal jig recently to be adjusted various situation of various area of water in the world. Jigging anglers of all over the world who faced tough situation very often are required capabilities to accommodate yourself to it.
We have pursued capabilities such as manipulate ability, flexibility of tip section, toughness of butt section for new Galahad series to reflect your skills and techniques easily.
We present you 5 kind of spinning models and 4 kind of over head models to cover every jigging situations.
622S,633S and 634S have been loaded flexible tip section to let jig swim naturally and moderate repulsive force on belly and butt section to let jig move rhythmically.
585S and 526S high elasticity to let jig move speedy and aggressively when you jerk vertically.
We have succeeded to load high sensitivity to sense small vital information, ease of manipulation to reduce physical burden and high speed of response to transfer your input power. You can jerk both short and long strokes as you wish easily.

※As a renewal, we have changed notation of the meanings of last digit number on model name. Used to be notated oz class, but now for upper limit of PE line to match the rod for your region.
New Galahad Bending Curve
New Galahad Load Comparison
Spinning Model:622S,633S and 634S bend smoothly till belly section when you load so easier to keep your jig under control as you wished to.
585S and 526S little stiffer than others so potential of these will be shown when you fish vertically at rapid and deep area.

Overhead reel Model:622B,623B and 624B have flexible tip to let your jig swim naturally and you can adjust the way of approach if you are required thanks to belly and butt section that have been loaded moderate stiffness and repulsive force. 526B is little stiffer than others to fish as you planed at deep area or rapid water.

●About weight of loading
The image of 1kg load shows you the bend curve when you jerk jig. And other images are weight as drug max and weight in between of them. Rods are held on the angle that you are supposed to keep it when you are fighting with fish.

※These images are not illustrated on the full potential or characteristics of rods.
Please understand that those pictures are taken under the limited situation.
It was loaded with weight on rods gently.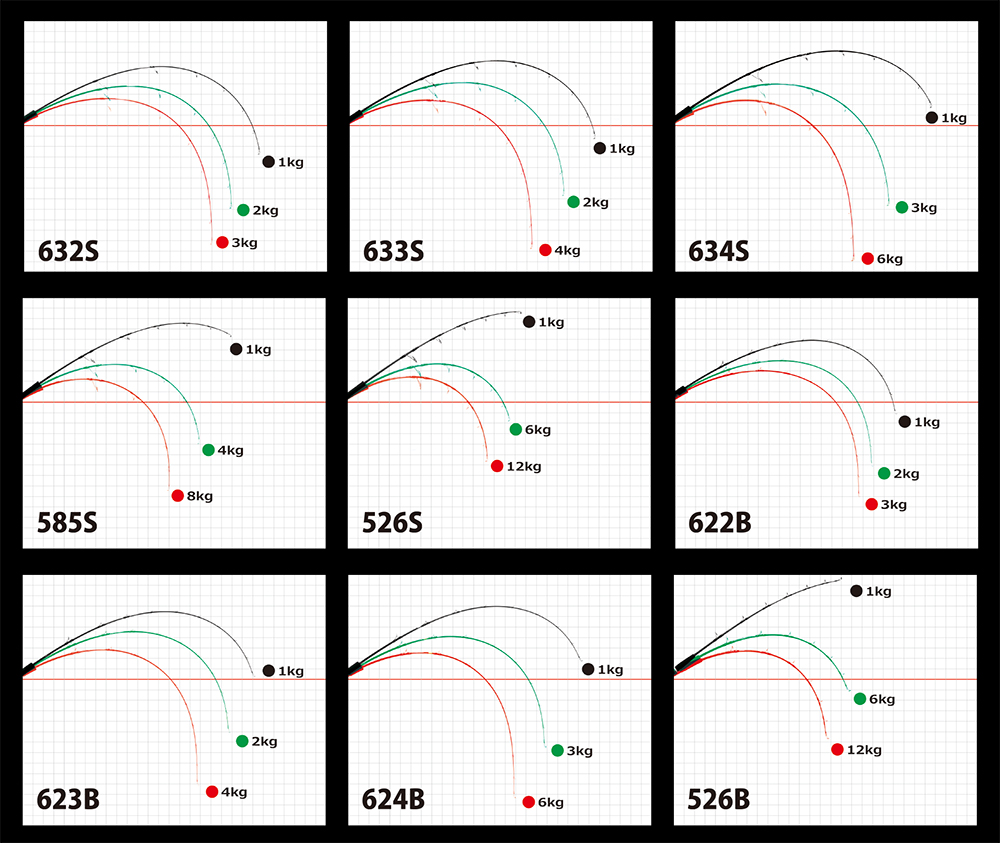 Galahad 634S Spinning Model
If you face the situation that you are required to move long jig naturally, to input load effectively on deep or rapid area, even on horizontally jigging in windy condition, 634S will cover all of these without any anxious. You will rearise that 634S have massive power to fight with kingfish at shallow or rough reef. You can stop the sudden run of kingfish aggressively without losing your initiative. The versatility of 634S enable you to jerk in one pitch or combinational jerk if you necessary to approach with different method. 634S will express your imagination and tactics through this carbon blank.
| | |
| --- | --- |
| Target | Blue Runner |
| Field | Shore line |

| Length | Weight | Section | Lure | Line | Carbon | | |
| --- | --- | --- | --- | --- | --- | --- | --- |
| 1915mm | 196g | 1pc | Jig Max 220g | Max PE 4 | 73.9% | | |
DragMax : 6kg Guide:SiC-S stainless frame K guide(Fuji)
Reel Seat:DPS18(Fuji) Suitable spinning reel size:DAIWA around #4000~4500 / SHIMANO around #6000~8000
Sizes of rod a. Length from reel foot to end of grip when reel is equipped. b. Whole length of grip.