Ripple Fisher's 3-piece pack rod "GTX edition" is reborn. In consideration of the recent expedition circumstances, the new GTX pedal has been revised in terms of bending and power while keeping the closing dimension to 887 mm, further improving the perfection as a 3-piece rod. We have thoroughly pursued fighting performance with a cast feel that does not seem like a multi-piece rod and a smooth bent curve, and have achieved performance comparable to a two-piece rod.
The lineup of PE6 and 8 classes is a lineup that takes into consideration not only GT but also Hiramasa boat casting. Furthermore, by combining it with the same 3-piece model, Aquila-EX, it becomes possible to systematically expand a wide range of games from PE3 to 8 and expand the range of game options during expedition.
In a sense, the GTX is a model that has challenged the limits of our technology. Please experience Ripple Fisher that evolves with GTX, which pursues not only portability but also high-dimensional usability and power.


The GTX is a 3-piece model developed as a model for overseas expedition, but it is finished in a tone that is easy to handle not only for GT but also for casting games of Hiramasa in Japan. Compared to the Aquila EX, which is the same PE6 class, the GTX has the outstanding performance of throwing quickly with a sharp swing, and the Aquila EX is recommended if you want to make full use of fine lure operation. Also, GTX has a strong and regular tone, so long sharks at a constant pace are very easy to do.
GTX Expedition Bending Curve
GT Expedition 6kg static load comparison
3pc model GT Expedition is a bending comparison with a static load of 6kg applied. The Aquila EX83-6 and Ultimo 83M are displayed for comparison. Both GTX81M and Aquila EX83-6 are PE6 Max and are almost equivalent in rod power, but the blank tension is stronger in GTX81M. This is intended for use with Popper Main, and for light GT games, the Aquila EX83-6 is also an option if it is a diving pencil main. Compared with the GTX81MH and Ultimo 83M, there are some similar in power, but the GTX81MH has stronger and sharper tension, so when the rod is stood up compared to the left comparison, the GTX81MH exerts more power. Although the GTX series has a sharp cast feel as a characteristic, it shows a smooth bend under high load during fighting.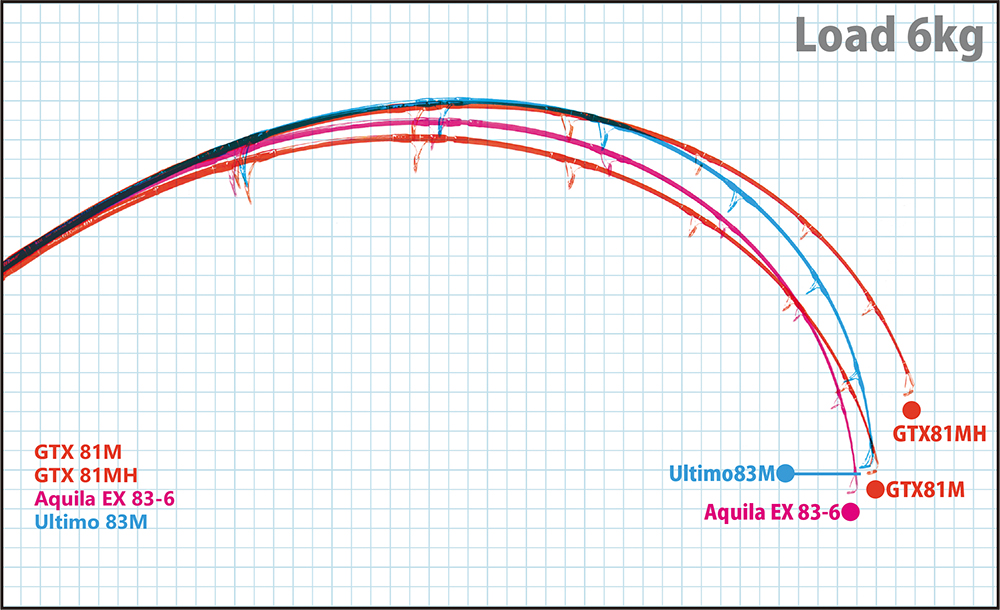 This is a PE8-class multi-piece model with the main target of large GT in domestic and overseas expeditions.
The sharp and highly repulsive blank is easy to handle with a light force even with a large diving pencil, a medium diameter popper with high resistance, a sinking pencil that relies violently, giving a sharp action to the lure, and casting continuously with a good castability It also reduces the time burden.
A muscular blank with a stronger sense of strength than the 81M has excellent instantaneous power, it is easy to fight with a sense of speed, and you can develop the game that reflects the angler's intention as it is.
Of course, you can also use the pool of rods to stop the fish while enduring in the roots and shallow areas, and it is a Ripple whole expedition model that challenged the limit of multi-piece performance.
| | |
| --- | --- |
| Target | Giant Trevally  |
| Lure | Diving Pencil/Small to Medium Popper/Diving Popper |
| Specification | SiC Ocean Guide Specification (Fuji) |
| Recommended Angler's Weight | 65kg~ |
| Length | Weight | Section | Lure | Line | Action | | |
| --- | --- | --- | --- | --- | --- | --- | --- |
| 8ft 1in (closed dimensions: 887mm) | 386g | 3pcs  | MAX 180g | MAX PE 8 | Regular | | |
◎Applicable reel standard / S: 14000~18000 / D: 5500~6500
Grip length / A: 852mm (Grip length) B: 505mm (Grip end to reel foot)
Blank tip diameter / 3.9mm (Beneath top guide) Blank source Diameter / 15.2mm (Original diameter is the outer diameter of the fishing rod body from the bottom of the rod to 920mm)
Reel seat / DPS20 (Fuji) Uplock
grip end / BRC specification