In 2019, Ripple Fisher's boat casting rod series "Aquila" will introduce a large number of additional models and refine the series.
The lineup has been brushed up so that the performance specialized in various situations can be demonstrated, including Hiramasa and yellowfin tuna games, which have been subdivided in recent years, and the current Ripple Fisher's technology has been poured in generously, never before I also tried to create a blank.
There are 9 new lineups. The categories are divided into four categories: ST, MLT, MST, and EX. ST is a well-balanced model that has sharpened standard performance for a wide range of situations and targets. The MLT is a multi-purpose model that combines a delicate tip with a strong bat to challenge the big game with a light line. MST is a reinforced model that pursues toughness and power, specializing in the large Hiramasa that has already become a classic. EX is the first three-piece pack rod in the series, realizing a feel and tone that exceeds the limits of multi-piece.
The new "Aquila" is a spirit of Ripple Fischer that has been crafted without any compromise to realize a rod that exceeds the limit. In addition to ease of handling, we have achieved a high level of fusion of reliable lift force, delicate lure operability, and castability, and we have also pursued "inning power" that will not let fish violate.
Please experience the true power of blanks, not just power or tone.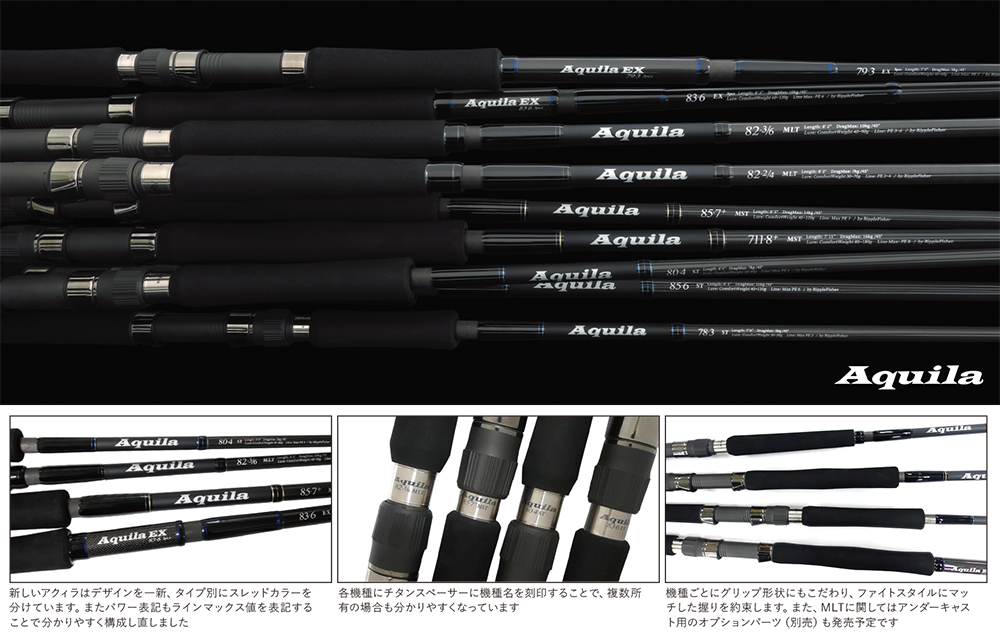 Aquila ST: A series that combines the basic and important factors required for casting games: cast, lure operation, ease of fishing, and fighting. The feeling of use is sharp, and if a load is applied by applying a fish, the fulcrum will move smoothly to the hand side, allowing the bat with a pool to be able to fight stably and not giving the fish the initiative. The lineup also includes three models in the PE3, 4 and 6 class, with models that can handle a variety of situations and targets.

Aquila MLT: The size of the fish is large, but the predation of shirasu and other very small baits, so the tackle must be lighted, and it is impossible to bring the boat to the nervous minimal bait, making it more than normal A multi-purpose model that was born to capture the necessary conditions. New to capture big game with light tackle, designed to make full use of line strength by combining the conflicting elements of small lure's long throwing and operability, and catching big game without passing the initiative It is a sensory rod. It is a model that can be called another culmination that complements the Ripple Fisher Offshore Rod lineup.
* 2/4 of the model notation means that the rod class is PE4 Max, and the tip feel is PE2 class model. (Tip PE3 class for 3/6 and bat PE6 class for 3/6)

Aquila MST: A series dedicated to monster class strategy that has been refined in order to aim at large hiramasa. The main concept of this game is to use a large lure and compete in the PE7-8 class line under conditions where Hiramasa prey on large baits such as dolphin, duck and flying fish. It is not just a hard rod, but by setting the bending fulcrum of the rod to the front, it has a followability that can easily cope with the sudden thrust peculiar to Hiramasa, and everyone can easily stand up by dropping the waist firmly The tone is easy to fight.
* The + attached to the power class indicates that the design of the original power class is added to the stickiness and strength.

Aquila EX: This is an expedition model that combines the performance of three-piece carrying with uncompromising rod performance. Air travel is indispensable for domestic and overseas expeditions that are increasing year by year. The size of the aircraft will become smaller as it becomes remote, and the size limit for deposits will become more severe. Even under such circumstances, the Aquila EX series has been made through trial and error in order to make a voice like "I want to travel with my familiar partner". The lineup includes PE3 class and PE6 class, and finished with a sharp feel that does not require the use of lures. Even though it is a three-piece, it has a crisp feeling of use, and the tone that can be bent and stored will be a strong ally even in the harsh conditions of expedition.
Aquila Bending Curve (3kg static load comparison)
This is a comparison of bending in a state where a static load of 3kg is applied to the aquila. Aquila consists of four types: ST, MLT, MST, and EX. ST that emphasizes general-purpose performance and balance, MLT that fuses strong bats against delicate tips, MST that has the power to suppress the running of large hiramasa in harsh conditions such as shallow belts, EX of the first 3-piece model of the series Lineup.
A special design in the new lineup in 2019, the MLT is a model for catching big shots in the light line. It features a delicate tip that is in line with the linemax class and has a wide range of lures. Fight is not power-driven, it is a type that makes you bend and nostalgia, and fighting is more effective than other models. Designed to apply pressure with a constant load.
As shown in this comparison, the EX series is a three-piece model that realizes a smooth bend, and the feeling of use is a model with a sharp swing-through and operation feeling. A balance that does not carry weight even though it is a three-piece, and a cast feel that can be swung through.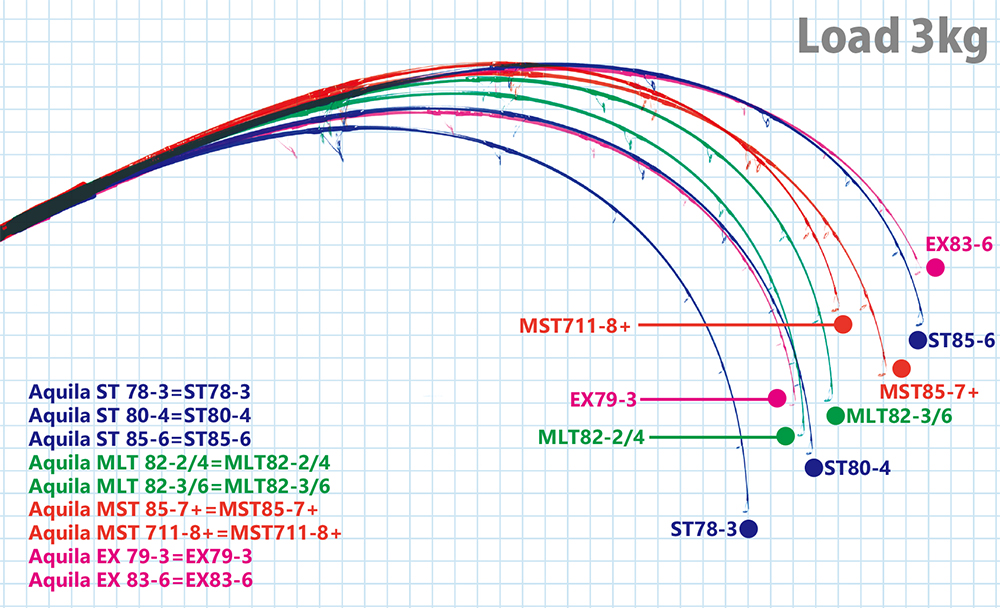 Aquila ST 85-6
It is a model that can cast a small lure on a liner with a crispy cast feel.
We are good at shooting pinpoints even in the hard-billed tuna nabla under the tough conditions of being cast against.

 

The sharp but mild feel is designed with an emphasis on the manual operation of the lure and the stability during the fight.

 

(Formerly Aquila 85H Nano)
| | |
| --- | --- |
| Target | Yellowtail Tuna, Yellowfin Tuna, Bluefin Tuna |
| Field | From near sea to expedition (reference field, Genkaien, Aomori etc.) |
| specification | SiC-S Titanium Frame K Guide + SiC Ocean Guide Specification (Fuji) / Nano Alloy® Technology Adopted Blank |

| Length | Weight | Section | Lure | Line | Action | | |
| --- | --- | --- | --- | --- | --- | --- | --- |
| 8ft 5in (end size 1925mm) | 338g | 2pcs / grip joint | ComfortWeight * 40-110g | MAX PE 6 | Fast | | |
◎ Applicable reel guide ・ S: 8000 ~ 18000 / D: 5000 ~ 6500
Grip length / 740mm (Grip total length) ・ 480mm (From grip end to reel foot)
Blank tip diameter / 2.5mm (Directly under the top guide) ・ Blank original diameter / 14.8mm (original diameter is the outer diameter of the fishing rod body 815mm from the butt)
Reel seat / DPS20 (Fuji) Downlock
grip end / BRC specification
* ComfortWeight is the lure weight notation that can be used most comfortably with the rod. Please note that this is not the max value used.