Monster Impact is a special class series that captures non-standard big items and limited situations. By throwing away general and easy-to-use general-purpose performance and demanding specialized power and tone, we support anglers who challenge the limits.
101HH / 110HH is a power series for Hirasaki, and it is not an easy-to-handle rod, but the blank was crafted on the assumption that the angler could not take an advantageous position on the fence. Considering the adverse situation as normal, we have the power to cope with not only hirasuki but also unexpected blue things. This rod is not recommended unless it is an angler that is capable of handling minnows for hinokizuki but has power to the limit and has already established fishing for cypress. However, it will surely be a right arm for anglers who follow the ranker size with certainty, how to eat cypresses and where the big guys lurk.
The model scheduled for release in 2019 will also be 90H, a spinning model that targets sea bass and red turtles and can use heavyweight big battle lures. Expanding the frame of the series and pursuing the power method that is the starting point will further expand the world of monster impact.

MonsterImpact Bending Curve (2kg static load comparison)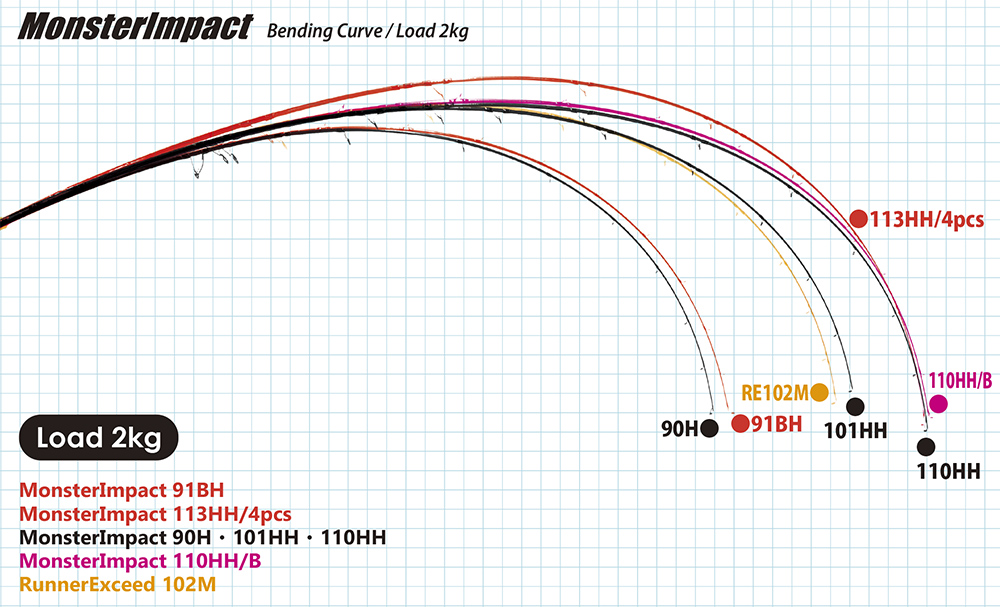 MonsterImpact 113HH
The 113HH is a powerful pack-rod which allows easier access to your fishing grounds to target Blackfin seabass and Blue-runners. The short 90cm separate length can be stowed in your backpack and by freeing both hands of any rods will help anglers safely reach some of the more remote and dangerous land-based fishing grounds. It is a versatile rod able to handle small minnows to medium size diving pencils with a seamless bending curve rarely seen in any 4 piece rod. The rod possesses contradicting qualities of both power in the butt section to stop the run of monstrous fish and flexibility in the belly section to avoid any hook offs.
While being highly resilient this regular tapered blank will show its true potential in the most critical time. The MonsterImpact 113HH/4pcs rod comes with its own special rod bag and a useful neoprene rod bag for your fishing trips. The rod also fits nicely onto the RippleFisher waterproof backpack.

| | |
| --- | --- |
| Target | Black-fin seabass・Blue-runner |
| Field | Rocks Shore |
| Specification | SiC-S Titanium frame K Guide(Fuji) |

| Length | Weight | Section | Lure | Line | Action | Price | JAN CODE |
| --- | --- | --- | --- | --- | --- | --- | --- |
| 11ft 3in (Closed Length:900mm) | 320g | 4pcs | MAX70g | MAX PE 3 | Regular | Please contact to our agent in your country or nearest country. | |
Suitable reel size  S:5000~6000 / D:3500~4000
Grip length / 645mm(Grip full length)・466mm(From grip end to reel foot)
Dia of tip / 2.5mm(Just below top guide)・Dia of butt / 16.9mm (Butt diameter measured 675mm from the bottom of butt section)
Reel seat / DPS20(Fuji)Down Lock
Grip end / Hardness BRC is loaded on bottom of grip