BlueCurrent TZ/NANO series are flag ship models which are filled with our knowledge and techniques of designing blanks of light game.
Once you fish with this series, you notice the lightness and high sensitivity, casting feel that never get unwanted wobble and massive power hidden in butt section will be increased when it is bent. In 2019, 4 new models added to TZ/NANO series. Various length, various type of power, and various kind of characteristics to cover various situations and target that anglers have to face.
New TZ/NANO models support anglers who will never stop exploring to find new method and tactics on your own.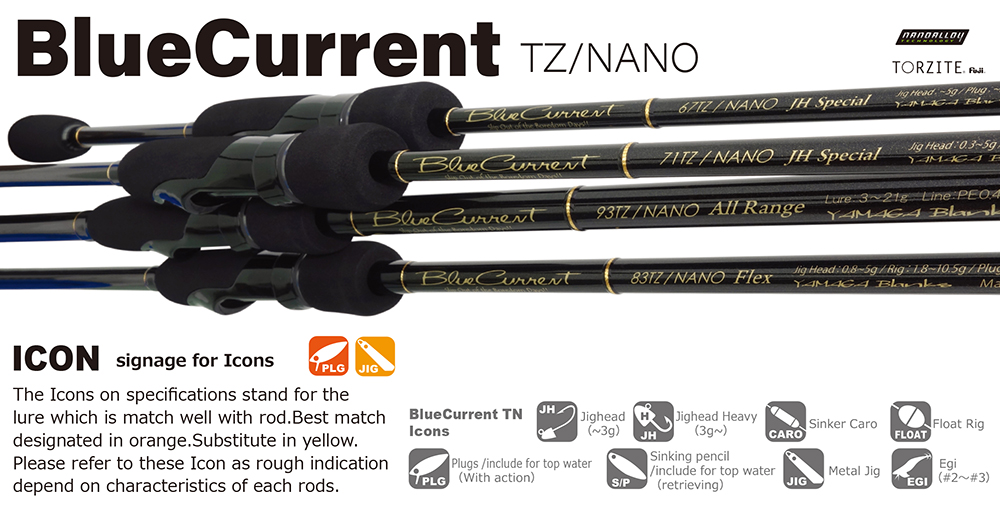 BlueCurrent TZ/NANO Bending Curve
BlueCurrent TZ/NANO Load Comparison
These are comparison images of BlueCurrent TZ series which are loaded 250g weight on tip. 4 new models added to TZ/NANO series in 2019 to enhance this category.
83TZ/NANO retuned to be sharper and tougher while increasing flexibility and sensitivity compared to previous 83TZ. (Rods in green and orange) 93TZ/NANO is designed as totally different model from previous 91TZ to enhance versatility as All-Range.
67TZ/NANO and 71TZ/NANO which are added as jig head special is designed to become more flexible and sensitive while enhancing the speed and force of reshape to original position.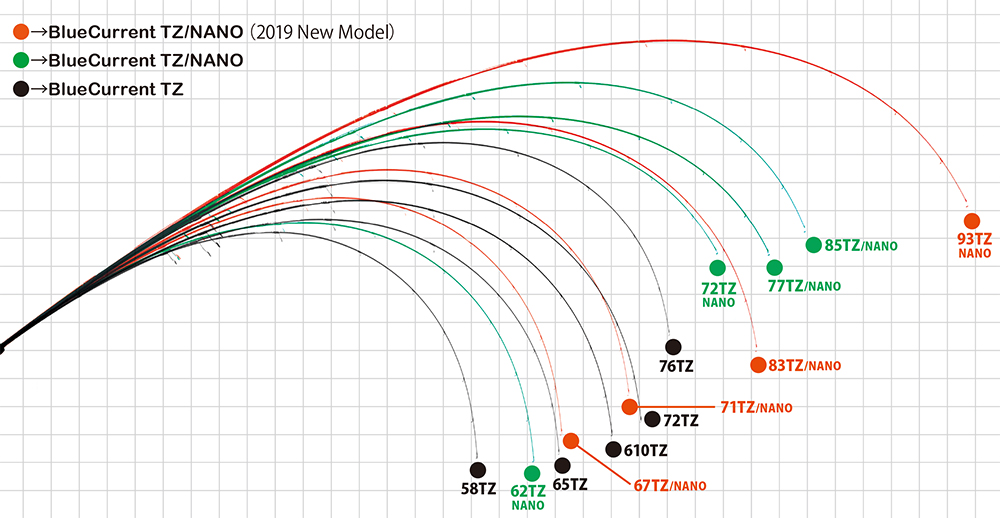 BlueCurrent 93/TZ NANO All-Range
Actually, it is all depends on your imagination to pull out the infinite potential of this 93TZNano All-Range. We have extended length and enhanced power of 85TZNano All-Range to cover farther range and tougher target. 85TZNano have been tuned as 93TZNano while keeping high sensitivity and manipulability even though massive power have been loaded on butt section. Of course, you can use it for Horse Mackerel or rockfish, it works for black sea bream, seabass or even for squid. As we mentioned, potential of 93TZNano All-Range become unlimited depending on your skill and imagination.
| | |
| --- | --- |
| Target | Anything |
| Lure | Anything |
| Field | Anywhere |

| Length | Weight | Section | Lure | Line | Carbon | Price | JAN CODE |
| --- | --- | --- | --- | --- | --- | --- | --- |
| 2825mm | 90g | 2pcs | 3~21g | PE 0.4~1 | 99.7% | ※ | |
Closed Length : 1440mm Joint : Put over Ferrule Guide:TORZITE Titanium frame K Guide(Fuji)
Reel Seat:VSS16(Fuji) Suitable spinning reel size :DAIWA #LT2500C~2500 / SHIMANO #2500~C3000
Sizes of rod a. Length from reel foot to end of grip when reel is equipped. b. Whole length of grip.