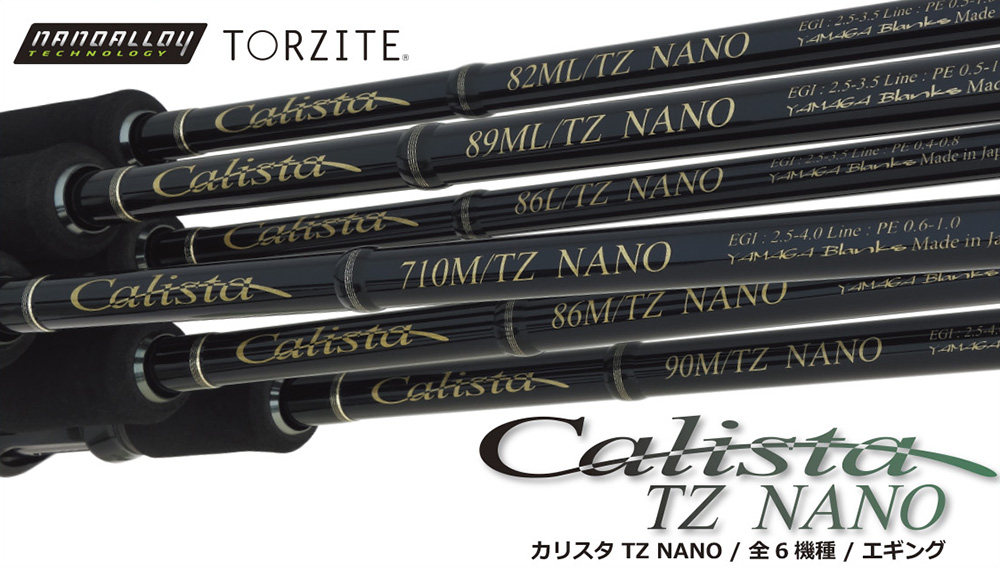 Yamaga Blanks' flagship Eging rod series "Calista" has been reborn with advanced technology. The blank that has undergone a complete design review uses Toray Industries, Inc.'s latest technology, Nano Alloy® technology, to achieve a new level of blank response. The guide is equipped with Fuji Industrial Co., Ltd.'s Torzite ring and titanium guide (SiC ring only for the top guide), and the long threading performance is also improved by smooth thread removal.
Calista's NANO blank follows the load in an instant and restores momentarily with high repulsive force. Due to this characteristic, it is possible to move the Egi sharply with a light force at the time of Shakuri, and at the time of fighting, prevent the body from breaking and quickly raise the deca. The supple but cored tensioned blank reduces the load on the angler and makes it easier to delicately invite.
In 2016, we will also add a strong 710M/TZNANO for anglers who like sharp and high response games, and we will respond to the needs of core Egginger with a more complete lineup.
Calista Bending Curve
Calista 500g static load comparison
This is a comparison of rod bending when a static load of 500 g is applied to the Egging model Calista. The Calista uses a NANO blank that combines tracking performance and high repulsion, and although it has a large bend, its power is not weak. Although Calista has some tension when held in hand, it is possible to transmit the power of the angler with a light force when crisping or hooking.

Calista's NANO blank uses Nanoalloy® technology, and as a characteristic, it has a high impact absorption capacity even when the tension is raised, and it keeps the repulsive force while flexing flexibly under the condition that such a load is continuously applied. Therefore, compared to the Varius, the feeling of operation is very different and it takes some getting used to. If you like the standard feeling of Egging, please choose Varius, and if you want to enjoy fighting from cast to crispy, fight with lighter power, please choose Calista.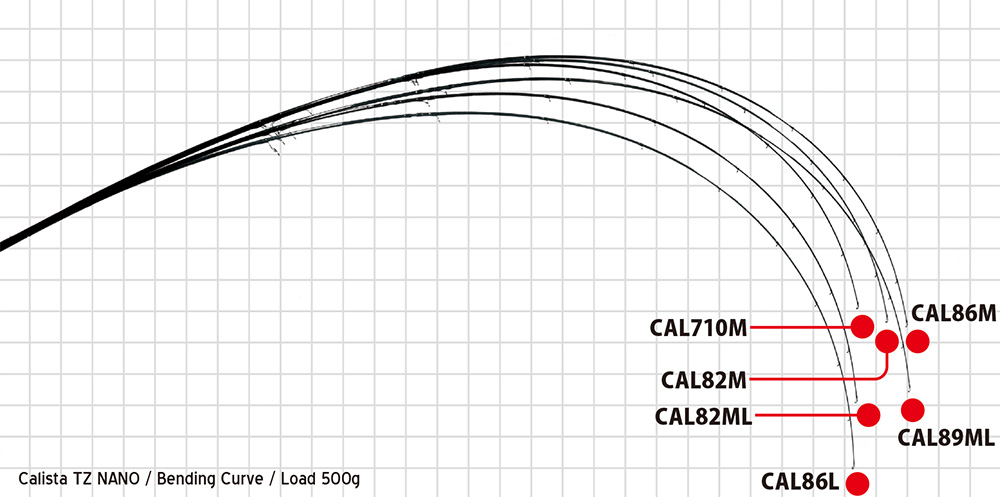 Yamaga Blanks Calista TZ Nano 90M
This is the perfect rod to make Egi lures fall for a long time which result from the sharp action and length of the rod. The rod has been adjusted to make it workable and not too stiff to remove the burden from the angler's wrist. This model is recommended for shallow areas to allow the lure to fall for a longer time to maximise the area of the lure in the strike zone. The length of the rod also allows the angler to cast further to get to areas that are unreachable with shorter rods.

| Length | Weight | Section | Lure | Line | Carbon | | |
| --- | --- | --- | --- | --- | --- | --- | --- |
| 2745mm | 104g | 2pcs | Egi #2.5~4 | Pe 0.6~1 | 99.8% | | |
Closed Length : 1410mm Joint : Spigot Ferrule
Guide:TORZITE Titanium frame K Guide & Top Guide : SiC Titanium frame Guide(Fuji)
Reel Seat:VSS16(Fuji) Suitable spinning reel size:DAIWA around #2500 / SHIMANO around #2500(C3000)
Sizes of rod a. Length from reel foot to end of grip when reel is equipped. b. Whole length of grip.