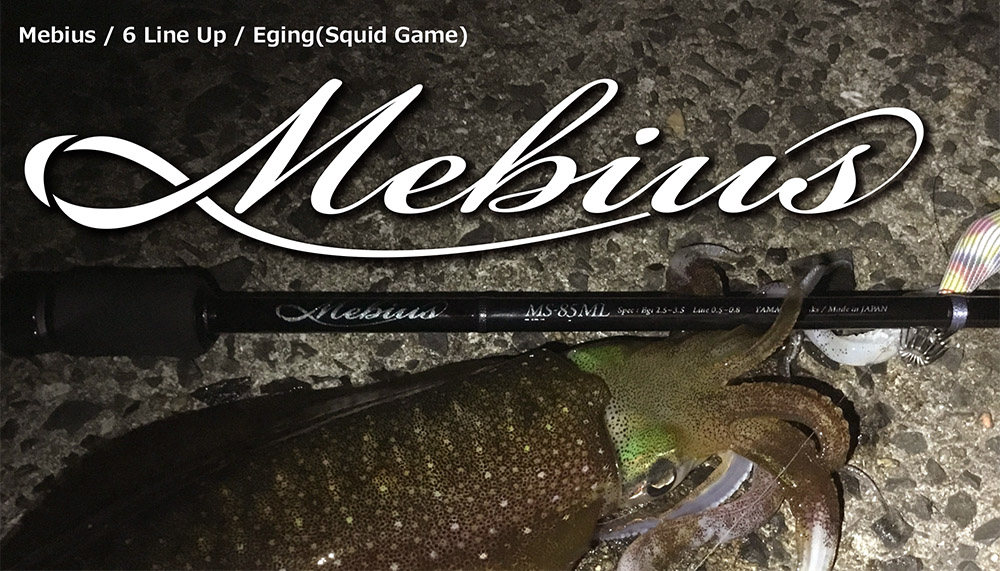 2018, YAMAGA Blanks releases new eging series. We have put our accumulated techniques and knowledges into "Mebius" series.
We think that there are lots of meanings we release new eging rod series on our 10th anniversary of foundation.
We have a hunger to build eging rod with high performance, superior durability and low budget while taking advantage of our skills and technology.
We hope that fishing rod from YAMAGA Blanks is going to be used by much more anglers. That is ambition what we put into Mebius series.
It is quite difficult to keep low budget while pursuing performances and quality.
But we have succeeded to achieve those elements as making extensive use of our techniques of design and quality of factory.
That is how we build fishing rods and once you fish with Mebius series you will definitely know as much about our policy and performance of blanks.
We offer you 6 different type of character for Mebius series as such as short length, light weight model or medium heavy class to cover various situation that you are going to face.
Of course you can take one as main rod, you can also take one as a substitution for specific circumstances.
We put our full of passion, spirit, knowledges and techniques of YAMAGA Blanks as a rod manufacturing bland into this Mebius series.
Mebius Bending Curve
Mebius Comparison (Load 500g)
These are comparison images of Mebius, Calista and Various series which are loaded 500g weight on tip.Mebius series have been loaded more flexibility than other series to get more versatility and usability.Compared to Various series, Mebius series have been designed to become softer.

※These images are not illustrated on the full potential or characteristics of rods. Please understand that these pictures are taken under the limited situation, it was loaded with weight on rods gentry.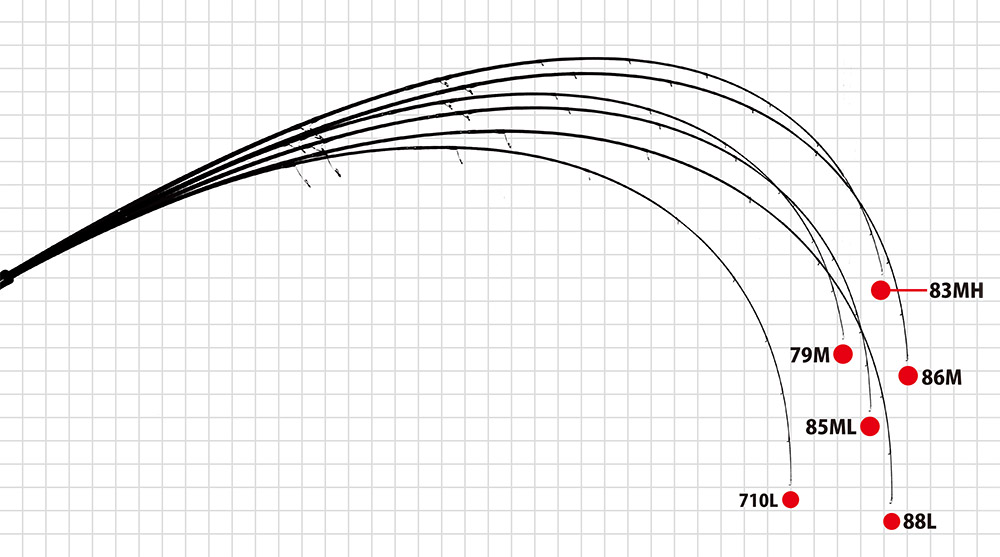 Yamaga Blanks Mebius 710L 
If you wish to use super fine PE line to sense slightly changes of pressure of current and lure out carefully, this sensitive short length model is the one.
Although it is unsuitable for letting your Egi move fast or using Egi which receives strong resistance of water because of that flexibility which is designed intendedly, When squid is less activity than usual then you are required to feel slightly changes of current and need to manipulate and lure out delicately, Sensitiveness which is loaded to 710 enable you to cast light weight of Egi, sense tiny contact of squid, and keep squid over 2kg under control. Of course you can take 710 for fishing from boat.

| Length | Weight | Section | Lure | Line | Carbon | | |
| --- | --- | --- | --- | --- | --- | --- | --- |
| 2390mm | 84g | 84g | Egi 1.8~3.5(~21g) | PE 0.3~0.6(Up to 16lb) | 96.4% | | |
Closed Length : 1225mm Joint : Put over Ferrule
Guide:SiC stainless frame K guide(Fuji)
Reel Seat:VSS16(Fuji) Suitable spinning reel size:DAIWA around #2500 / SHIMANO around#2500~ #C3000
Sizes of rod a. Length from reel foot to end of grip when reel is equipped. b. Whole length of grip.